Lamp bar clamp for Siberia double row
Beschikbaarheid: In stock
| ordered before 15:00, shipped today |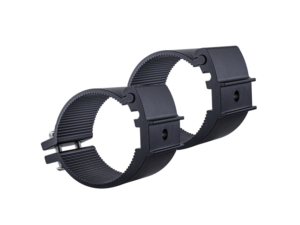 Lamp bar clamp for Siberia double row
€70,00 Excl. VAT €84,70 incl. 21% VAT
Lamp bar clamp for the Siberia double row LED bar. 
Do you want to mount your Siberia LED bar on a lamp bracket? Then use the lamp bracket clamp for the Siberia LED bar. This clamp is specially designed to be able to attach the Siberia LED high-beam headlamp with double row to your lamp bracket. The clamp can be used on brackets with a diameter of 58-70mm. By using the clamp you can, for example, attach your high-beam headlamp to your Kelsa bracket. You can use the clamps for, for example, a Hibar, Lobar, multibar or visorbar. This does not prevent you from mounting the clamps on a different type of bracket. In the package you will find two brackets so that you can securely attach your high-beam headlamp to your vehicle. 
The fixing material of Strands is made of high quality material. This ensures that the Siberia LED spotlight is properly attached to your bracket. With this lamp bracket clamp you can easily attach the Siberia LED bar to your bracket. You can also use these clamps to mount the spotlight in, for example, your bullbar. By using these brackets you can be sure that the installation is easy. You can use this set on your car, camper, truck or other type of vehicle.
To use for: 
The lamp bracket clamp can only be used for the Strands Siberia LED bars that are equipped with a double row. The double row spotlight is available in the following dimensions:
Are you not looking for the Siberia LED bar confirmation? Then take a look at the page spotlights. You may find the product you are looking for here.
| | |
| --- | --- |
| Gewicht | 0.750 kg |
| SKU: | ADL89185 |
| Brand | |
| Color | Black |
| Content | 2 pieces |
| Material | Plastic |
| Fasteners | Stainless steel |
| EAN | 7323030183981 |
| Warranty | 1 Year |