Beschikbaarheid: In stock
| ordered before 14:30, shipped today |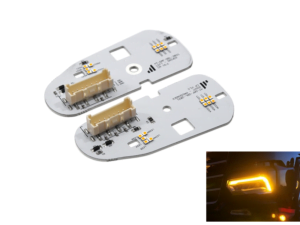 €175,00 Excl. VAT €211,75 incl. 21% VAT
DAF NG DRL unit orange, year 2021+. 
Would you like to replace your original white LED daytime running lights of your DAF NG truck for an orange colour? Then this DRL set may be the set you are looking for. This set consists of two LED plates with which you can change both the left and right module. You can easily replace the original mounted lighting for this orange variant. At the bottom of the page you will find the steps you need to follow. This DRL set is only made for a DAF truck of which the year of manufacture is 2021+. You can install the DRL set in both the XF and XG models with a LED module in the headlights. The set is made to fit a DAF and will therefore not fit in any other brand of truck. The color that this DAF daytime running light emits is the same as that of your flashing light.
A set consists of two LED plates. Each PCB is equipped with eleven powerful LED's, which will cause the entire module to light up. The LED module is exactly the same as the original mounted one. As a result, replacing the module is done quickly and you do not have to adjust anything in the original lamp. The LED unit is made of high quality material. This guarantees a long service life. In short, by mounting the LED lighting in your DAF you can be sure that you can hit the road well lit. The DAF NG LED orange daytime running lights do not have an E-mark. That is why you have to reassemble the original one for the MOT. 
Other models: 
Do you have a DAF truck. But isn't this fitted with the same units shown in picture 2? Or do you just want a different color? View the other available models of DRL units for the DAF truck here: 
Edit:

To install the orange LED DRL unit in your DAF truck, you must follow the following steps. The installation of the LED lighting will take approximately one hour per headlamp. Figure 3 shows an example of how the set will eventually light up after installation.
Remove the connector from the existing lighting.

Remove the screws securing the original diode holders.

Remove the diode holders from the cooling plates.

Remove the thermal paste and clean the surface well.

Bring the supplied thermal paste in a thin even layer to the cooling plates where the lamp will be mounted.

Push the diode holder into the thermal paste and secure it carefully with the original screw.

Insert the connector into the new diode holder.

The lighting of your DAF NG is ready for use.
Don't you just want to replace the orange DRL unit of your DAF NG? But are you looking for more LED lighting that you can mount in or around your DAF? Then take a look at the page DAF lighting.
| | |
| --- | --- |
| Gewicht | 0,165 kg |
| SKU: | ADL49210 |
| Brand | |
| Voltage | 24 volt |
| Color | Orange, White |
| Color LED | Orange |
| Content | 1 Set |
| CAN-Bus | Yes |
| Material | Plastic |
| Type of lighting | Daytime running lights |
| Functions | Daytime running lights, City lights |
| Cable connection | DAF plug |
| Number of LED's | 11 LED's |
| Edit | Recessed mounting |
| Waterproof | Not waterproof |
| E-mark | No |
| ADR | No |
| EMC | ECE R10 |
| EAN | 6090543927906 |
| Warranty | 1 Year |